Automatically sync Avaza Invoices with QuickBooks Online via our new powerful integration! Our new two-way sync automates your invoicing for you! Once set up, this new integration will sync new invoices and updates to existing invoices, reference data (including Customers and Products/Services aka Inventory Items) to QuickBooks Online, as well as Payments to and from Avaza to QuickBooks Online. 
Advanced Integrations currently allow you to sync Invoices with Xero and QuickBooks Online.
During the sync, we pass specific information to and from QuickBooks Online. Here is the direction in which data is synced.
| | | |
| --- | --- | --- |
|   | Avaza to QuickBooks Online | QuickBooks Online to Avaza |
| Customers | Yes | No |
| Products (Inventory Items) | Yes | No |
| Sales Invoice Line Items | Yes | No |
| Payments | Yes | Yes |
1. Connect Avaza with QuickBooks Online
Navigate to Settings > Marketplace Apps. Click on the QuickBooks app from the list. 
Figure: Go to Settings > Marketplace Apps > Quickbooks
Click the Connect button on the QuickBooks apps popup. Grant the app the requested permissions. You will be navigated to the Settings page tab as displayed below.
Figure: Add QuickBooks Online as a Connection
Click Connect to QuickBooks Online. If you don't have an existing account, please first set up a QuickBooks Online account.
Figure: Log into your QuickBooks Online Account
Authorize Avaza and our integration partner – OneSaas – to access your QuickBooks Online data.
Figure: Authorize the Connection
Great! Now, your QuickBooks Online account is connected, and we can create our integration!
2. Configure Integration Settings
Currently, you will be able to sync Invoices created in Avaza with QuickBooks Online. Click on the available integration, and you will see a number of fields open up in front of you.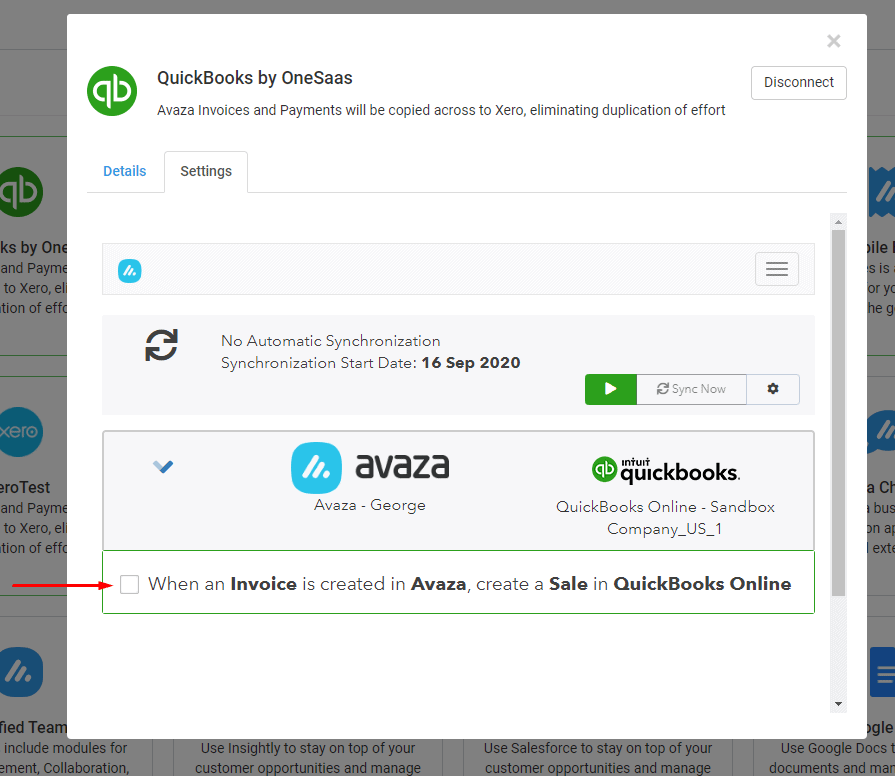 Figure: Click on the Available Integration to Get Started 
2.1. Retrieve Invoices from Avaza
Figure: Select Invoice Statuses to Sync with QuickBooks Online and Invoice Numbering
Invoice Statuses: Choose which Avaza invoices you wish to pass to QuickBooks Online by selecting the relevant Invoice statuses.

Create: Choose whether you wish to create a Sales Invoice or a Sales Receipt. Read more about these here. 

Invoice Number Prefix:

Add a short prefix, e.g. "AZ", to ensure your Invoices have unique numbers that also identify where they were created from.

 

Automatic Invoice Numbers:

Allow QuickBooks Online to assign an automatic invoice number, e.g. to adhere to sequential invoice number rules, rather than using the invoice number provided by the Avaza.
2.2. Map Tax Codes
Figure: Map Tax Codes with QuickBooks Online
For each of your tax codes on the left, select the matching QuickBooks Online tax code from the drop-down menu to the right.
2.3. Match Existing QuickBooks Online Items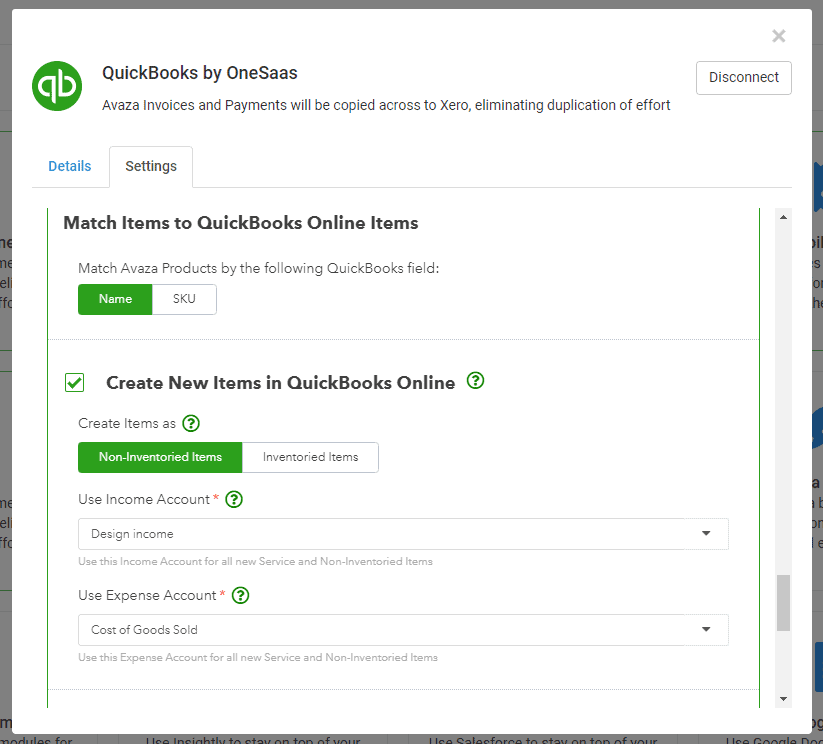 Figure: Map Existing Inventory Items in QuickBooks Online 
Choose how you wish to match existing items in QBO. You can choose to map them by Name or by SKU. 
Note: If you do not enable this setting, Invoice sync will fail every time a matching product is not found in QBO. 
2.4. Create New Items in
QuickBooks Online
Confirm how you want to pass over Inventory Items to QuickBooks

 Online

, as well as the default Income and Expense Accounts you wish to map your revenue and expenses to.
2.5. Send Payments from Avaza to
QuickBooks Online
Figure: Map Payment Accounts to Send Payments from Avaza to QuickBooks Online
Once payments are made on your Invoices in

Avaza

, you will be able to pass them to QuickBooks Online seamlessly. Choose how you wish to map the various payment methods available in Avaza with GL code available in QuickBooks.
2.6. Send Payments from
QuickBooks Online
to Avaza.
Figure: Map Payment Accounts to Send Payments from Avaza to QuickBooks Online
If you prefer to apply payments in Quickbooks instead then configure this option. Whenever you apply payments to invoices in Quickbooks those payments will be created in Avaza automatically. Choose the default payment method you will like to you use when creating payments in Avaza.
Click Save. Now you can sync Avaza Invoices with QuickBooks Online
3. Sync Avaza Invoices with QuickBooks Online!
Once your integration is set up, scroll up to the Sync panel.

Figure: Choose when you want the Invoices to Sync from, and Turn the Integration on 
On the Sync panel, you will be able to choose your Account Timezone, and the date you wish to start the sync from. You can choose a date in the past if required to do bulk sync for current data existing in your Avaza account.
Once you are ready to begin, turn the integration on. You can also pause this integration if needed. While the integration runs on the hour, you can force a sync by using the Sync Now button.
4. View Synced Data 
View all data that has been synced via the Data tab. This includes Invoices, Contacts, Inventory Items, Taxes and more.
Figure: View Synced Data on the Data Tab 
You can use this tab to check data synced with your connected apps as well as search through data.  
5. Get Help 
Should you need support from our integration partner OneSaas, you can click on the Help tab. Of course, the Avaza team is here 24/7 to help you set up, and manage your integrations as well.
We hope you all enjoy this new integration!