Just launched! Our Reports dashboard has a new look & feel, with options to search, save & share reports with your team members, view popular reports and much more!
We've made powerful reporting even more powerful! Favorite reports to make them easier to find, save reports with your desired filters and re-run them in seconds, or share reports with your team members as needed.
We've made it easier than ever for you to keep track of all the important metrics for your business, with numerous report variations available to you based on your specific needs.
Navigate to Reports to see our new reporting dashboard.
Figure: Choose Between Standard, Popular, Favorite & Saved Reports
Standard Reports
View all Avaza reports available to you (based on your user role). Reports have New and Popular tags, to highlight reports that have recently been introduced or are considered popular by our team.
Search for reports using our new search field, or find reports in the appropriate section: Project Management, Finance, Expenses, and Exports.
Figure: Search through Standard Reports
Popular Reports
Based on our team's input we have highlighted the most popular reports in Avaza. Use this tab to quickly find a useful report for your needs, or check out the reports our team thinks you should definitely explore!
Favorite Reports
Have a few reports that you turn to again and again? Clicking on the Heart icon favorites a report, and adds it to your Favourites tab.
We list Standard reports and Saved reports separately in the Favorites Tab.
Figure: Favorite a Report to Add it to your Favorites Tab
Saved Reports
Tired of choosing filters again and again?
While viewing any Avaza report, you can now click on the Save As button and save the report filters.
Figure: Use Save As Button to Save Report Filters
Enter a Title for your Saved Report, as well as a Description, and choose whether it will be visible to just you, or other team members (based on user role) as well.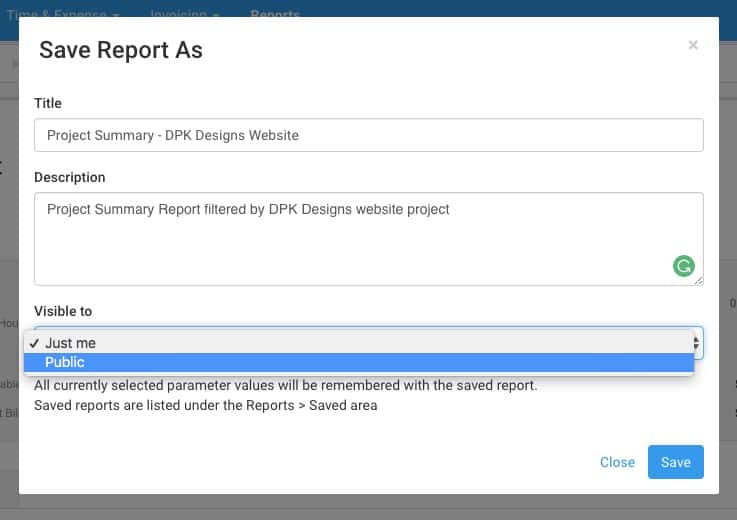 Figure: Enter Report Title, Description and Sharing Preferences
The Saved Reports tab has sections for:
My Private Reports: All Saved reports that you have marked Private.
My Public Reports: All Saved reports you have shared publicly.
Reports Shared by Others: All Saved reports made public by other team members.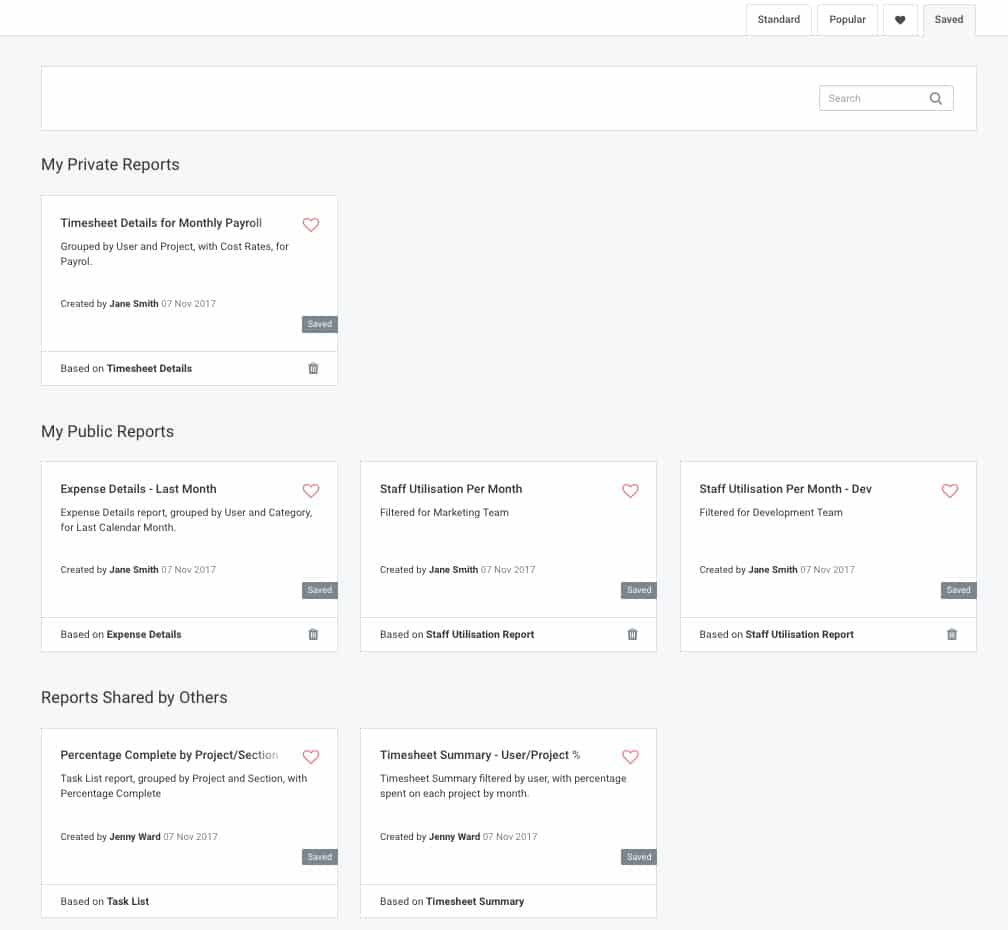 Figure: View All Saved Reports, Including those Shared by your Team
We're extremely excited about this upgrade to our reporting module! We know a lot of you have been waiting a long time for this and would love to hear your thoughts, suggestions for reports that should be tagged Popular, or other feedback you may have!