Sub-tasks has been one of the most heavily demanded features, and it's finally here. You can now break larger tasks down into smaller pieces, making it easier to get through the entire task. Team members can easily view sub-tasks on each task in the Project-level view, and through the task itself.
Adding Sub-Tasks
Adding sub-tasks is extremely simple. Open the Task Edit pop-up, and click on the Sub-Tasks Tab
Figure: Manage Sub-Tasks
Add as many sub-tasks as you need by simply entering a title and pressing enter or clicking Add link.
Figure: Add Sub-Tasks In-Line
Sub-Tasks Icons
When you view the task in List-View or in Kanban boards, the Sub-Tasks icon shows you the sub-tasks listed under each task, as well as the number you have already marked completed.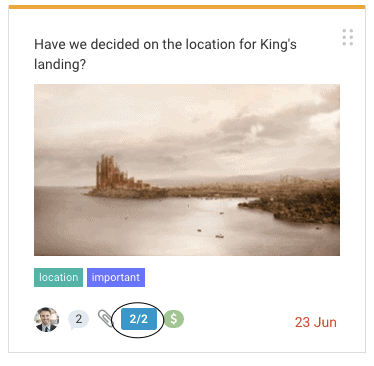 Figure: Kanban Sub-Tasks Icon
Sub-Tasks are an effective way of keeping projects on track, as team members can break large tasks down into manageable chunks, and keep track of their completion using the Sub-Tasks icon.